Is this the most stylish city in Africa?
By TPN/PA, in Travel · 15-03-2019 15:13:00 · 0 Comments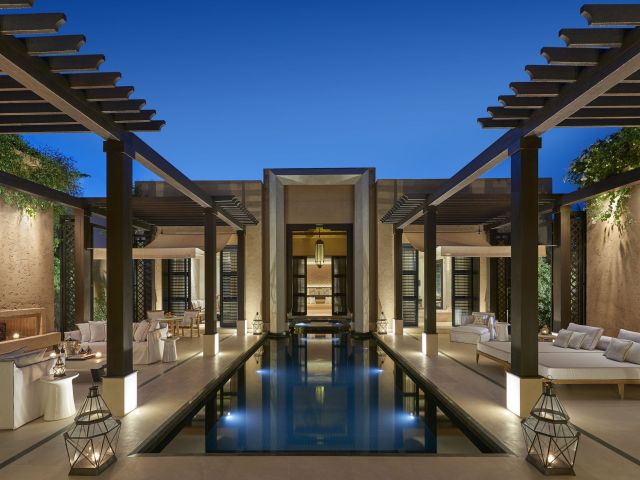 A new museum dedicated to the designer Yves Saint Laurent has opened in Morocco. Sarah Marshall recommends a chic weekend away.
Everywhere you look there's colour: from bursts of sunshine hanging from fruiting orange trees, to cones of marigold-yellow turmeric and flaming-red cayenne pepper rising like exotic mountain ranges in the shadowy doorways of spice shops.
A delightfully disorientating mix of wild hues and exotic patterns, Marrakech captured the imagination of fashion designer Yves Saint Laurent when he first visited in 1966 - and fifty years later, its heady impact hasn't diminished one bit.
"The city opened my eyes to colour," the Algerian-born artist famously declared.
Falling in love at first sight, he bought a property here with his partner Pierre Berge and later restored the famous botanical gardens, Jardin Majorelle, where a museum celebrating his connections with the Moroccan city recently opened next door.
Containing numerous key pieces from the designer's game-changing collections, the Musee Yves Saint Laurent Marrakech (mYSLm) is set to boost this North African destination's creative appeal once again.
Visit these places for a fashion-themed weekend escape.
Style it out at mYSLm
In a dark corridor illuminated by spotlights, a modest but carefully curated selection of garments is modelled by mannequins, providing a visual timeline of the fashion designer's career. Now signature styles in high street stores, the jumpsuit, pea jacket, smoking jacket and trouser suit all started life in YSL's sketchbooks.
"A woman handling her gloves is a gesture I adore," claimed YSL, and a fabulous magpie's cabinet of accessories - including bold, garish costume jewellery and an outrageous gold-plated breast plate - is an exhibition highlight.
Tip: Skip the designer prices and size zero portions of the museum's restaurant, and head to the Pause Gourmande cafe across the road
Stay at Mandarin Oriental Marrakech for a fashionable sleep
Although a 15-minute drive from the Medina, this modern property still embodies all that's great about the city. Petals from more than 100,000 roses flutter in 20 hectares of gardens, where olive trees twirl around secluded villas and the undulating outline of the Atlas mountains hovers on the horizon.
Each room is a mini palace, with a pool dominating the open-air courtyard and a voluptuous tub almost drowning the bathroom. There's even a touch screen-operated hammam in the shower, with black soap and scrub mitt provided.
Tip: To avoid any embarrassing rows with drivers in the Medina, order fixed price taxis through the hotel reception.
Enjoy a chic eat at Le Trou Au Mur
For too long there's been a gap in the Marrakech restaurant market; options have historically ranged from high-end hotel appendages to simple street eats, with very little in between. So this new casual diner from the owners of boutique hotel Riad Farnatchi really is in a class of it's own.
The menu is equally refreshing, serving a selection of forgotten classics rarely served outside Moroccan homes. (The de riguer tagines are still offered, but there's so much more besides.) A speciality is the meshoui - a slow-cooked lamb.
Tip: Ring ahead and ask to be met at the Medina walls; it's easy to get lost.
Relax like an A-lister at the Farnatchi Spa
There's no such thing as too many hammams, so take the opportunity to squeeze in a scrub between exploring sites and souks in the Medina. Opened last year, next door to Riad Farnatchi (who also operate the spa), it features four treatment rooms and two hammams either side of a sun-splashed courtyard.
---
Interactive Topics, send us your comments/opinion on this article.