MPs call in minister urgently on emergency network failings
By TPN/Lusa, in News · 11-04-2019 07:52:00 · 0 Comments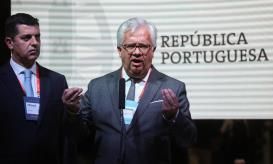 The committee on constitutional affairs, rights, freedoms and guarantees of Portugal's parliament on Wednesday unanimously approved a request to hear the minister of internal administration.
The document, tabled on Monday tabled by the opposition People's Party (CDS-PP), calls for Eduardo Cabrita to testify urgently to deputies to provide clarification on the SIRESP emergency communications network, suggesting that the minister has been seeking to keep hidden reports on its failings.
The minister was on Wednesday being heard by members of the committee on environment, land planning, decentralisation, local power and housing, in a routine hearing that is underway in the room next to that of the committee on constitutional affairs.
Cabrita on Tuesday said that he was ready to testify on the subject of SIRESP, used by police, fire and civil defence services in emergency situations and whose failings were blamed for some of the loss of the life caused by forest fires in 2017.
---
Interactive Topics, send us your comments/opinion on this article.