Take a short break in Dubai
By TPN/PA, in Travel · 29-03-2019 16:16:00 · 0 Comments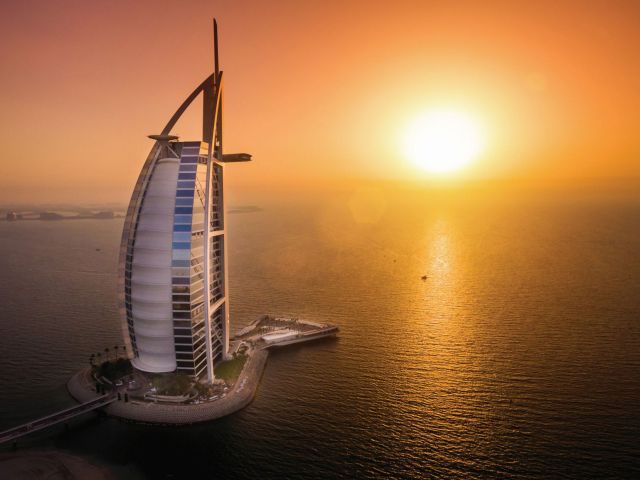 It's well known for its opulence, but this Arab state is also the perfect place for a short wellness break, says Keira Black.
Nicknamed the Vegas of the Middle East, Dubai is an impressive array of hotchpotch high-rises, sprouting from the Arabian Desert like an ambitious but unfinished game of Sims.
A flamboyant metropolis interspersed with mighty highways, Segways and supercars buzzing in every direction, this is a place to work hard and play hard. But if it's a wellness weekend you're after, then Dubai also makes the ideal destination. Here's how to spend a healthy two days...
Day 1: The spa bit
Start as you mean to go on
Nothing starts the day quite like waking up to a panoramic view of Dubai's palm-studded sprawl, the imposing Burj Khalifa tower puncturing the clouds like a gigantic needle. I'm treated to the sight from my sky-high room at the Jumeirah Emirates Towers, a lavish 51-floor oasis slap-bang in Dubai's flashy financial district.
Breakfast can be a minefield of calorific pitfalls, but at Mundo, the hotel's dining lounge, a helpfully signposted 'healthy area' offers smoothies and omelettes, all freshly prepared. Breakfast fajita or falafel wrap? No problem - ask and it shall appear. I eat well in preparation for the afternoon ahead - spa therapy can be so tiring...
Take a pre-lunch dip in the spa
If you've never experienced a floatation tank, the Madinat Jumeirah's Talise Spa is the place to do it. Reclining in a body-temperature bath filled with salt and enchanting essential lemongrass oils is, as promised, deliciously restful. I close my eyes and feel like I'm gliding through space, as soft jets gently rotate me.
Mind you, catching sight of myself in the reflective ceiling, pinging slowly around the sunken mosaic bath like a bikini-clad screensaver, is also quite the experience.
Spend an afternoon at the beach
Newly invigorated, I hit the beach. La Mer is an American-style, relaxed, man-made strip, and a 15-minute drive from the hotel. After a brief paddle in the water, I head for Comptoir 102, an award-winning interiors store and cafe in the charming Old Jumeirah area of the city.
The menu is a health buff's dream, with an all-organic spread, including seaweed hummus, vegan protein bowls and avo-everything to choose from. The grilled vegetable sourdough sandwich does not disappoint - and neither do the beautiful lampshades made of recycled materials.
Enjoy a night of Italian delights
After a sunset stroll through colourful design hotspot Alserkal Avenue, it's time for dinner at Alta Badia restaurant on the Jumeirah's 50th floor. Once the vertigo subsides, I'm overwhelmed by the city's myriad lights blinking below me, as well as a strange Big Ben lookalike staring in the floor-to-ceiling window.
The Italian-inspired menu offers such delights as beef and black truffle tortelli and fresh seafood linguine, but I request a vegan surprise, a challenge which Head Chef Mansoor accepts with gusto. 15 minutes later, he presents me with the most delicious, freshly-made mushroom and caramelised onion ravioli I've ever eaten.
Day 2: The exercise session
Break into an early sweat
Health and wellness isn't all about pampering; it's also about high-intensity leaping, lifting and sprinting in a dark room lit intermittently with LED lights. I get a fitness fix at Fairmont The Palm, located on the Palm Jumeirah, one of Dubai's three artificial palm-shaped archipelagos.
Prama is the Fairmont's take on the humble HIIT class. It's similar to circuit training, but with neon lights leading you through the stations and instructor Richie ensuring you don't drop the ball - literally - for a nanosecond. An excellent precursor to cocktails on the terrace later on. Now you'll really deserve that signature Bistrotini.
Spend the day cruising by boat
You may never have your fill of lavish poolside lounging, but an Abra boat tour at the nearby Madinat Jumeirah hotel is worth leaving your lounger for.
Whooshing through man-made canals with the impressive Burj Al Arab hotel rising from the sea before me, I feel a deep contentment that's only heightened by the jovial disposition of our captain, Dilip. Like so many others residing in Dubai, he is charismatic, electric, and noticeably joyful - a feeling that rubs off on you as you spend time in this city.
With a deep golden sunset enveloping the busy skyline as the boat docks, inner peace is inevitable.
Practise downward dogs on the beach
Winding down? Do so beside the gently lapping ocean at one of the seaside yoga classes on the Fairmont The Palm's private beach. Not a yogi but a yog-wannabe, I set myself up with a mat and muddle through the copious vinyasas beneath the stars. Afterwards, I feel fully invigorated, and the fresh-pressed health juice definitely helps.
End the weekend with a treat
The real fun of the evening begins, however, as you step foot into the Fairmont's popular Little Miss India restaurant. It is devoted to the fictional character Mohini Singh, whose personal belongings adorn the interior to create an eclectic and enchanting wonderland.
With mouthwatering regional Indian dishes and an array of stunningly presented cocktails (the winner for me is the tropical, gingery Slumdog Millionaire), guests are taken on a culinary journey, all against the backdrop of the glimmering Dubai Marina. Just dreamy.
---
Interactive Topics, send us your comments/opinion on this article.