Two earthquakes of 3.9 and 3.3 registered near Sines
By TPN/Lusa, in News · 02-10-2018 08:22:00 · 0 Comments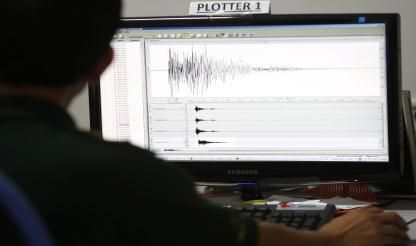 Two earthquakes measuring 3.9 and 3.3 on the Richter scale were registered on Monday in the seismic stations in mainland Portugal about 55km from Sines, in the Setúbal region south of Lisbon, according to the Portuguese Institute of the Sea and Atmosphere (IPMA).
According to IPMA, the first earthquake measuring 3.9 on the Richter scale was registered at 6.52 a.m. with the epicentre about 55km west-southwest of Sines, in the Setúbal district.
The second one, measuring 3.3 in the Richter scale, was registered at 6.58 a.m. and also had its epicentre about 55km west-southwest of Sines.
In a statement, IPMA said, "no information has been received confirming that his earthquake was felt."
Earthquakes are classified according to their magnitude as micro (less than 2.0), very small (2.0-2.9), small (3.0-3.9), slight (4.0-4.9), moderate (5.0-5.9), strong (6.0-6.9), large (7.0-7.9), significant (8.0-8.9), exceptional (9, 0-9,9) and extreme (more than 10).
---
Interactive Topics, send us your comments/opinion on this article.